Axie: Homeland Season Wrap-up
Homeland Season 0 has ended!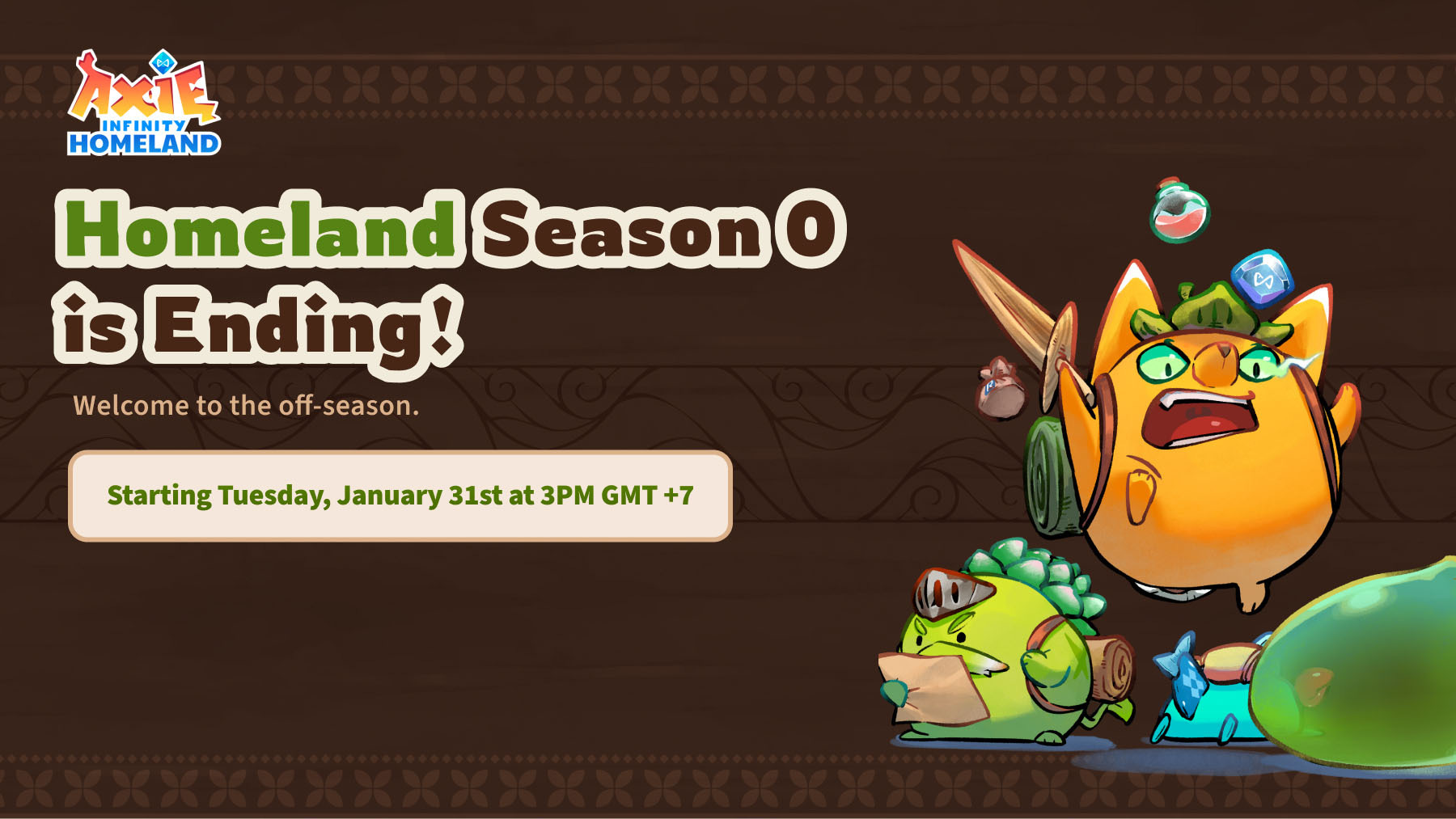 Key points
Homeland Season 0 has ended!

Our estimation is that Season 1 will begin in about 3 weeks.

There will be updates to Homeland gameplay and rewards in Season 1

The Homeland server is now down until the start of Season 1
New Updates In Season 1
We're excited to build upon our successes and insights from Season 0! Our backend analytics Season 0 revealed some very promising trends. Players tend to play long sessions, and overall retention over the course of the season is excellent. Additionally, despite the early stages of the game's UX, players show considerable progress in advancing their plots (by measuring current town hall levels across all players). The game also kicked off a broader distribution of land assets to a greater number of players.
As a reminder, here are the phases delineating the path for Homeland:
Homeland Season 1 will begin in 3 weeks or so. Players can expect major changes to the in-game economy that focus on strength, playtime, and play session. Remember that all plot-based progress will be reset at the beginning of Season 1.
Leaderboard Winners
In Season 0, top players were able to earn special in-game titles by reaching the highest ranks on the leaderboard. You will receive your titles when the server re-opens with Season 1.
Thank You for an Incredible Season 0
We were thrilled by our wonderful community's enthusiasm around Homeland. While Season 0 is ending, the off-season has just begun and Season 1 is around the corner. Let's look back on a few magical moments from the past few months of Homeland.
').attr({type: 'hidden', name: 'sys_lang_id', value: sys_lang_id}).appendTo('form');var base_url = "https://www.esportsasia.com/";var fb_app_id = "";var csfr_token_name = "tnTzbur7MxcHzv3C_csrf_token";var csfr_cookie_name = "tnTzbur7MxcHzv3C_csrf_cookie";var is_recaptcha_enabled = false;var sweetalert_ok = "OK";var sweetalert_cancel = "Cancel";is_recaptcha_enabled = true;