[Axie] January Dev Update!
Putting a bow on an incredibly productive 2022 with a massive list of updates to share!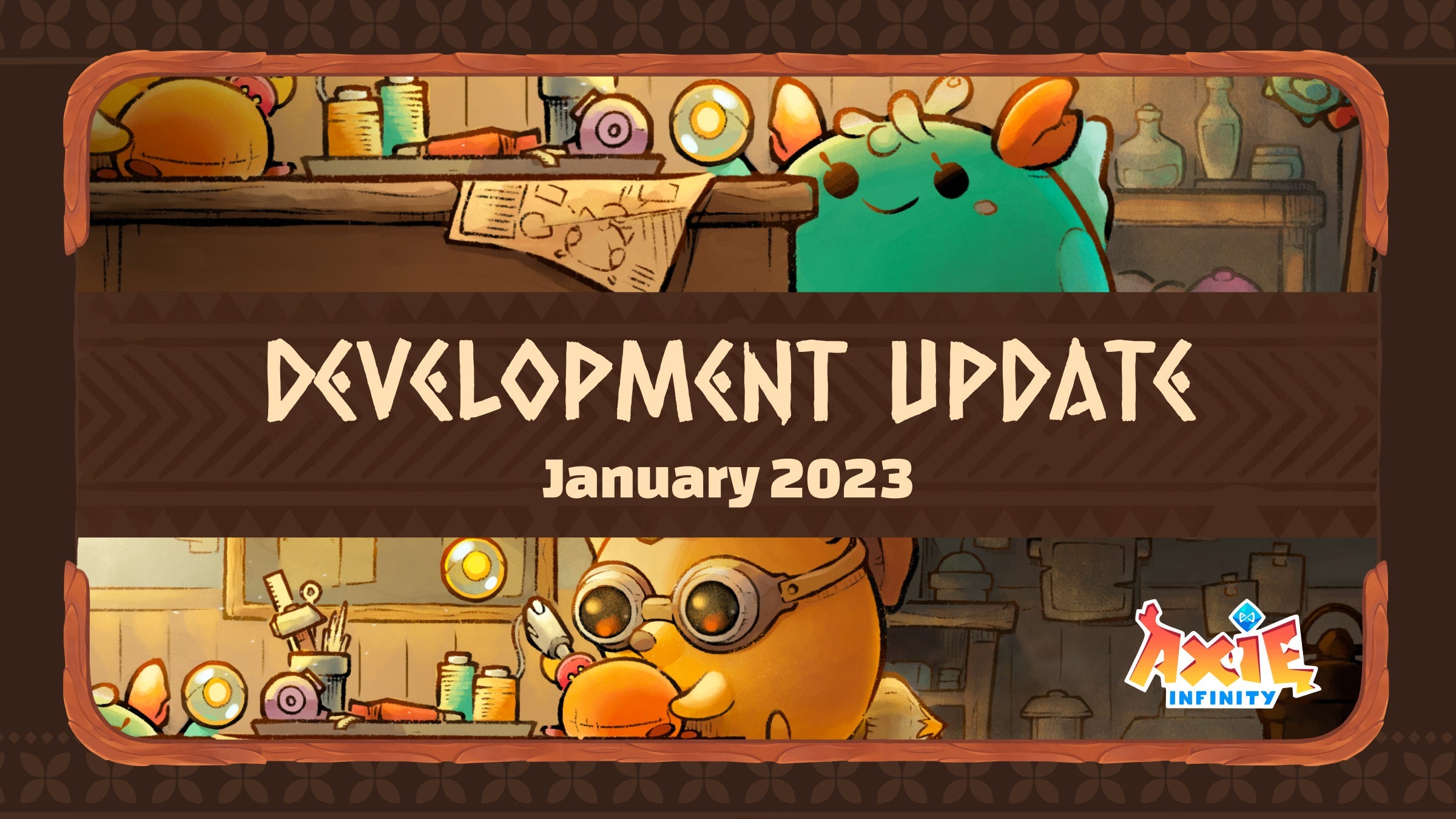 Key Points
We continue to build relentlessly alongside our stalwart community and look forward to a year of steady progress in 2023.
Axie development is proceeding at a blistering pace. Notably, we've launched the Axie Infinity Homeland Alpha, shipped a flurry of upgrades to Origins with Season 2, and introduced accessories, a key component of Axie Core.

Ronin network activity is heating up with the launches of a revamped Mavis Hub, Katana Liquidity Program, and an all new developer portal. RON staking preparations are proceeding smoothly and we have selected an internal launch date to push for.
2023 is off to a blistering start. We are delighted to have ended Q4 with an absolute avalanche of releases and improvements to the ecosystem. As usual, our community is the absolute foundational bedrock upon which all progress rests… so before we get into the updates, we wanted to start off the new year by thanking each and every Lunacian for their steadfast support through the good and more challenging times of 2022. Hopefully many of you are feeling the same level of excitement we are about Axie and it's long term potential. The momentum is clear, and it's building rapidly. So hang on, we've got a lot to review!
♻️ Ecosystem & Axie Core
In our quest to build an infinite gaming universe, we are hard at work building various core aspects to Axie Infinity, including an underlying lore, recognizable characters, a distinct and beautiful visual style, and various gaming and collector-centric experiences that allow players to engage the universe in varied ways. If you didn't already see the quick peek into the foundational story of Lunacia, take a look at the "Tales of Lunacia" trailer recently released:
We also announced the concept of Axie Core last month. In the same way that Axies give players access to a growing number of gaming experiences within our ecosystem, Axie Core provides players the means to advance, personalize, and bond with their collectibles in a growing collection of meaningful ways. We shared the first iteration of Axie Core with the release of Lunacia's Stocking Stuffers last month:
This event introduced the community to Axie accessories, by allowing Axie holders to claim limited-edition holiday decorations for your assets. These on-chain heirlooms will deepen the bonds we share with Axies by allowing players to uniquely customize their appearance. Plus, the event coincided with a new and improved "Axie Management" page which was well received by the community. We were excited to delight our community with the first step of Axie Core.
There were also a number of other visual refinements we released, such as new Axie egg and incubator art, and various Axie part art upgrades.